Our Spring blog focuses on how the radiators you choose for your home can greatly impact the style of your décor for many years to come
Why replacing your radiators should be at the top of your list
Our Spring blog focuses on how the radiators you choose for your home can greatly impact the style of your décor for many years to come and why this is the perfect read for today's homeowners, whose property is equal parts traditional and 'new build'.
To exemplify this, we have chosen a typical 1990's home to focus on. The 'new builds' of their time, these modernised dwellings do not lack the traditional features of the previous decade, leaving the inhabitants of said properties today with the DIY conundrum of updating the interior of the home, whilst still matching the architecture of the exterior.
It is easy to get lost down the rabbit hole of renovation with homes such as these, led by intoxicating fashionable home trends, but straying too far from the original era can quickly end with a muddled mismatch... so it is vital to take a step back and start with the main room features first.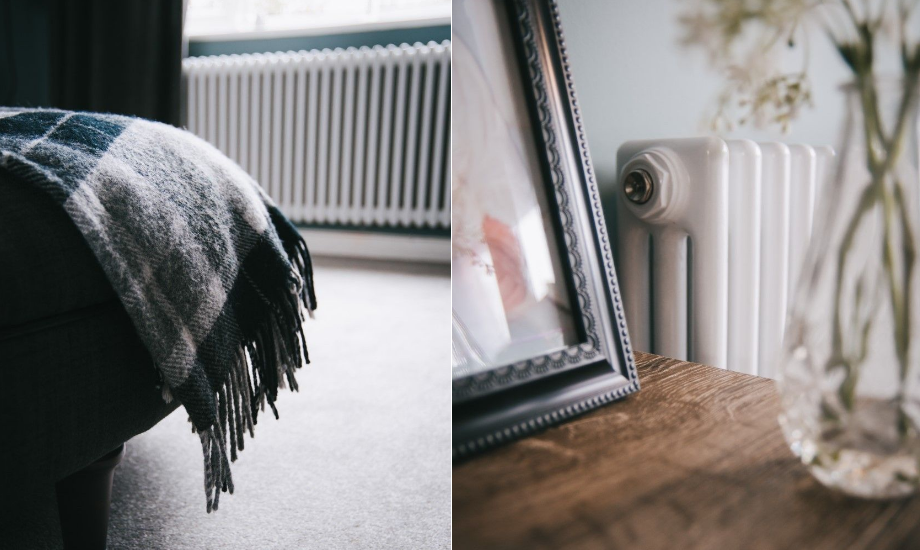 As the season begins to change, we focus less on keeping warm and naturally turn our attention to the emergence of lighter evenings and warmer days. The time for rejuvenating our homes has arrived and here at Radiator Outlet we are on hand to assist with our leading assortment of column radiators perfect for updating the 90's 'chic abode'.
Taking the lounge in one of these homes as an example; the main common features are upvc windows, dated door handles & light switches, built in electric faux coal fireplace with decorative mantle surround and original central heating radiators, usually in an 'off shade' of white.
Modernising these 1990's styled rooms can be really exciting. From choosing the perfect vintage modern suite, to the designer inspired colour palettes for the walls. The other important feature that cannot be excluded from your refreshing renovation, is the authentic 'vintage' radiator. In larger detached properties from this era, rooms often have more than one of these nostalgic heaters of yester-year keeping the room cosy...and so can be hard to ignore, never mind overlook when revamping a room.
Replacing the radiators when updating a home either side of this decade can be nothing less than transformative when executed thoughtfully. The catalogue of traditional radiators that we stock at Radiator Outlet can be easily matched with classic modern fixtures, fittings and soft furnishings of a typical retro style.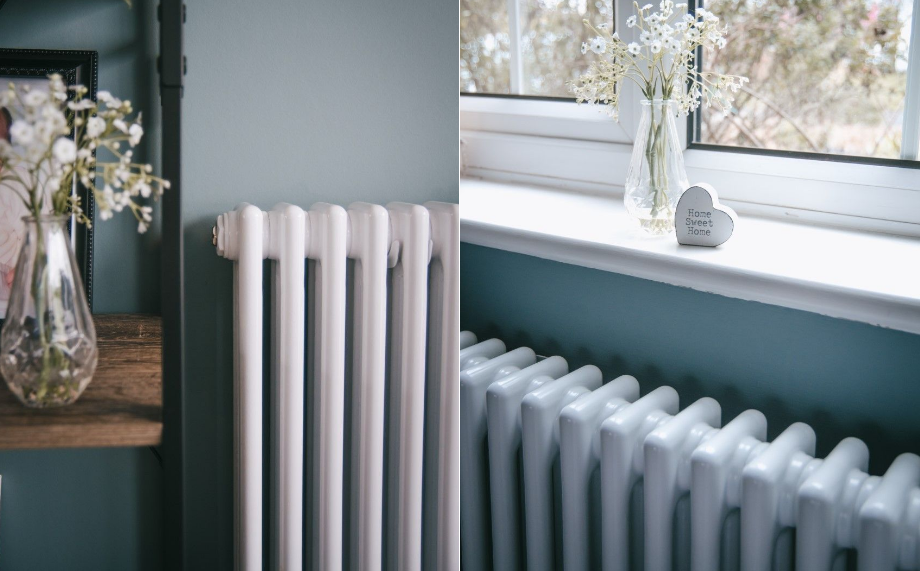 Here are some inspiring photographs showcasing one of our traditional white radiators in the home of a Radiator Outlet employee. Original 90's fitted radiators once occupied these spaces against a vanilla papered backdrop. Today the walls of this room have been adorned with a bold shade of designer blue paint. Our Traditional Horizontal 3 Column Radiator sits elegantly underneath the window, whilst our slim version of this same column radiator rests at the other side of the room beside a leaning industrial bookshelf. The crisp white of the radiators compliments the surrounding deep colour tones beautifully and their simple, yet sophisticated design make them striking features of the room.
The neat curvature of our traditional range of radiators suits both bold as well as delicate home designs and are transitional, making them the perfect choice for renovation projects in earlier new builds as well as period homes.